Nelson, British Columbia
Unfortunately spring break has come to an end. Over that time myself and my good friend and fellow photographer took a little trip to Nelson, British Columbia. Keeping up and getting ahead with my 2015 New Years resolution it is the 4th new place I have been to and all before April! Due to schedules we only were allowed to visit for two days but it was enough to get me hooked to the area. We left early Monday morning on March 30th and came home late Tuesday evening march 31st.
Day 1: We arrive in Nelson around 1130 am. We went to the hotel to see if on the off chance, we can check in. No cigar unfortunately. We decide to go get some grub and wander around the town. We walk around for a bit and ultimately decide on Jacksons Hole, a quite little pub downtown. Emily indulged in her first legal brew and we ate some delicious food. Something you should know about Nelson is that fast food isn't really allowed so most of the eateries are mom and pop shops with great atmosphere and food to match. After that we walked around the town and visited some shops. Again most of the stores are mom and pop locally owned. 2:30 rolls around and we can finally check into our hotel where Emily needs a quick nap.
That is right, our room had really sweet bunk beds. We hung out in the room for about an hour and I let Emily get a quick rest in after a huge meal and some walking around. After that we knew very well that the Ainsworth Hot Springs were next on the list. We drove out to Balfour to indulge in the 104 Degree water. We soaked in the natural hot springs for around 3 hours and I took a couple plunges in the 37F Degree pool to boot. It was a nice relaxing time. Afterwords we went back to the hotel to shower before grabbing dinner and drinks. After walking around we realized there isn't a lot going on on a Monday night so we end up in the Uptown Tavern eating and drinking until we decided we were about to have another long day and bed is where it was at.
Day 1 Images: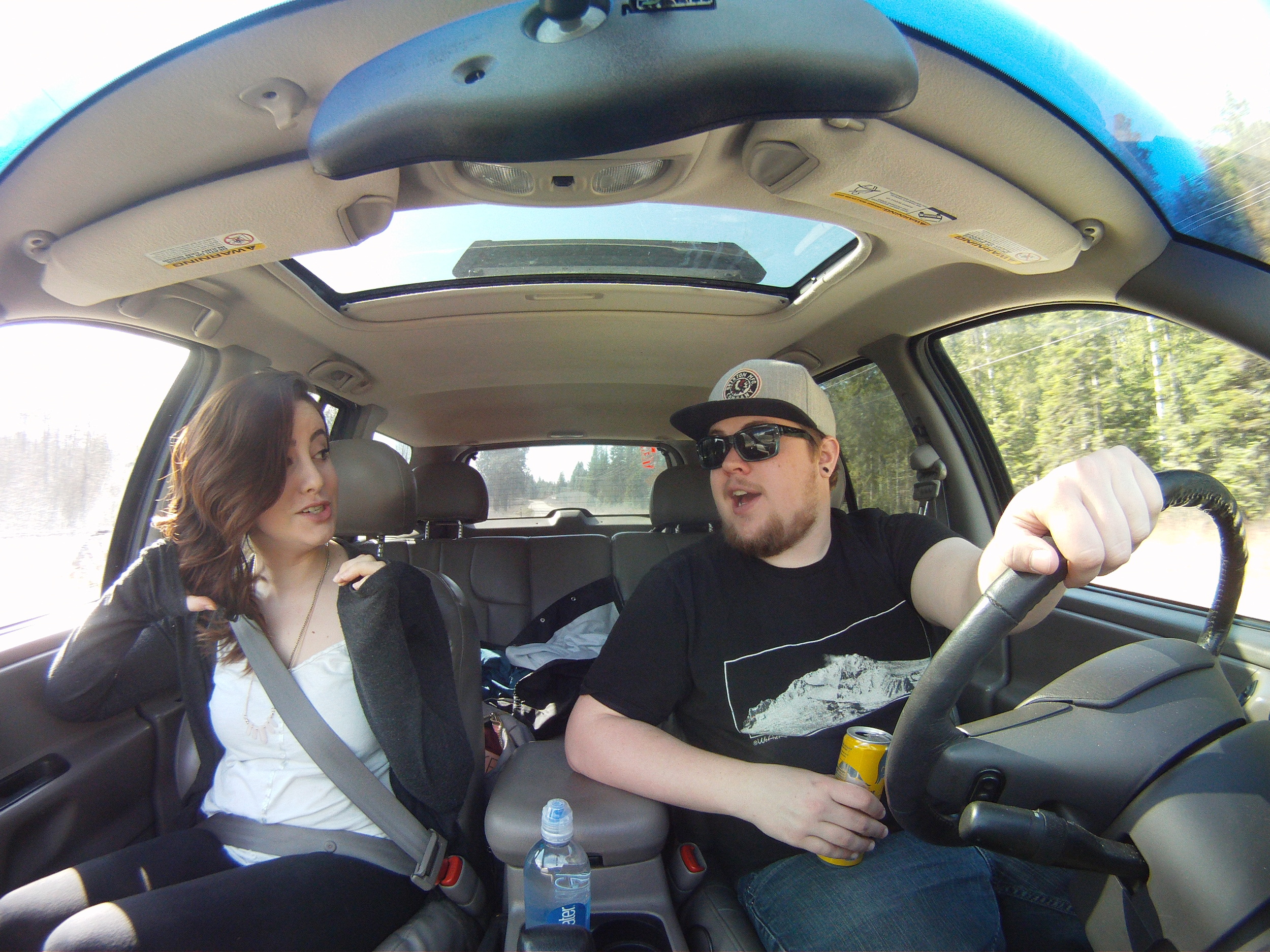 Day 2: We wake up and head out to find some grub. I am craving a good full breakfast. Some pancakes maybe, eggs, bacon or hashbrowns. Emily and I are walking down Baker St. and there is this sign outside a place called Wait's News that says "Jimmys Breakfast Grill". Low and behold Jimmy is behind the counter eager to help us. I order some of the best French Toast I have ever had and the conversation was out of this world. I recommend that everyone who visits Nelson stops in and eats at Jimmys Breakfast Grill or gets a milkshake that people seem to rave about!
We go to pay and I grab a Red Bull out of the fridge by the counter and they ring up our meal. My card has an issue reading. They inform us that its a common occurrence with United States cards. They hand me my Red Bull and tell us where the banks are so I can get cash. I tell em I will be right back and Jimmy looks at us and says, "Take your time, if you want to look around and come back later we will be here all day". Completely trusting and genuine folk. I get him some cash and Emily and I move on with the trip. We stop by the visitors center where meet this eager lady who told us about all the insane stuff you can do in the area. We sat there for over an hour in awe as she talked about everything you can do. Once we left it was off to Kokanee Creek Falls and Pulpit Rock. Kokanee Creek was still closed but we managed to find a couple open trails and a really nice view of Kootenay Lake. Afterwords we drove through torrential downpour of rain. The rain passed quickly leaving downed trees and inches of water everywhere. It just so happened to stop right as we arrive at the Pulpit Rock trail head. The hike was a bit longer and steeper than we had planned. It turned out to be an amazing view of Downtown Nelson (See top photo). After all this hiking we got hungry and found this place called Max and Irmas Kitchen. The food as always was phenomenal. After food we wandered around town for another hour or so and just took in the last two days. The ride home was quick but neither of us were anxious to leave.
Images of Day 2: