SoCal Part 2
May has come around and I learn that a good friend of mine is leaving the beautiful Pacific Coast for Virginia sooner than later. The dilemma, visit her down there before she leaves or visit her in Virginia. Heading to Ventura won. I decided to do three things in the six days I was going to be there. First, I had to go to Arcana: Books on the Arts and pick up a copy of Heaven, a photobook on Lenny Kirk. Next, shoot a fashion shot with a young model names Avery and utilize the ocean while I was going to have access. Next and last on the list of have to's would be to shoot skateboarding in one of the most progressive areas in the world.
I had to travel to new areas of the place though to stick to my one new place a month for the next 12 months. First off after hitting Culver City to get my book signed by Dennis McGrath we headed to check out Huntington Beach. It was a nice calm day and kids were practicing for the NSSA finals that weekend.
Two big things went wrong during the entire trip. The first being the tsunami of a rain storm that almost ruined my fashion shoot. California is in a drought, yet while I was there I managed to get a pound of sand lodged in my camera as well as get my camera and myself completely submerged in the ocean. It was complete hell but I got a shot that made it all worth it. It only took the entire next day to clean all my gear and get all the sand out.
Friday I spent the entire day cleaning my gear and prepping to work with Morgan Lassely in Sunland and Downtown L.A. Finally I get to shoot what I love in Los Angeles! On the way there we stopped in San Fernando which was a real culture shock. I have never seen anything like it in my limited city traveling. We pick up Morgan and head to a school where I get an awesome sequence and then head to L.A. City Hall to shoot some more. I was using a Canon 7D MkII and a 580EXII Speedlight.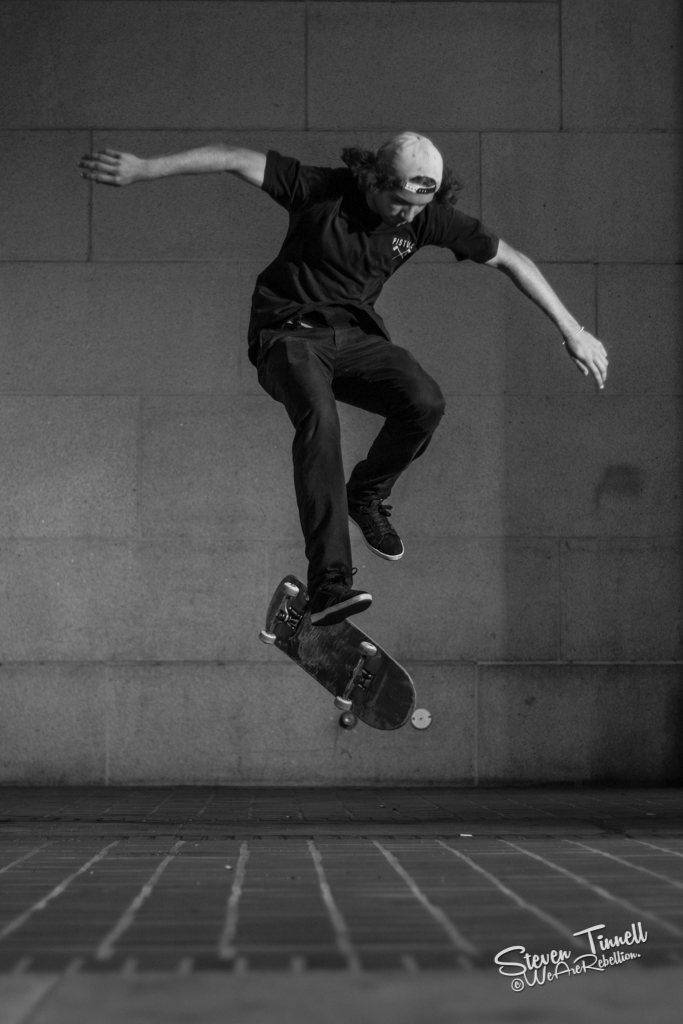 The next few days I spent enjoying food and company with my good friends because I am definitely going to miss them being even farther away than before. But on the bright side I know one more new place in the states that I will be traveling to before too long.